Beauxbaton Uniform Research
Costumes from Harry Potter and the Goblet of Fire. The costumes were designed by Jany Temime.
Promotional Pictures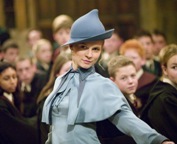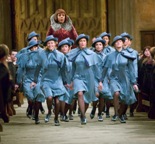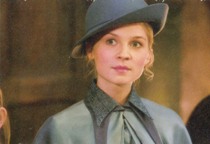 Screencaps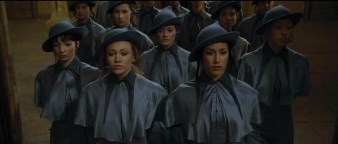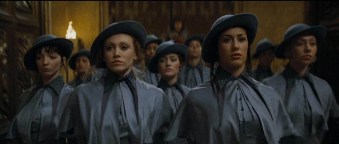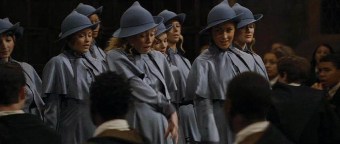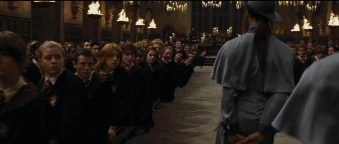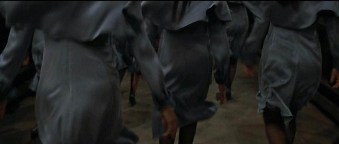 With Blazers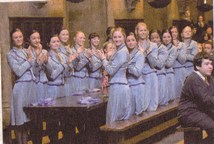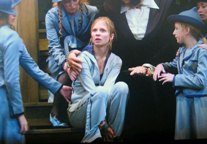 Description
Periwinkle blue silk dresses, probably silk charmeuse. The dresses are knee length and have an empire waist and princess seams down the A-line skirt. There's an invisible zipper up the back and a set of buttons on the front of the bodice which may or may not be functional. There are almost certainly vertical bust darts in the bodice. The dresses have a peter pan collor which comes to a long point in the front. They have long sleeves with a turned back pointed cuff in a darker fabric.
We first meet the girls with capelets over their dresses. These are the same fabric as the dress and are lined with a darker blue fabric. The cape has two turndown collars. The top collar is yet another blue fabric, this one with some texture. The lower matches the cuffs of the dress and has long dramatic points. The cape snaps at the collar. For more informal times they wear a blazer over the dress.
The Hat
The hat is rather difficult to come by. It is a shaped felt hat with a seam towards the back. Similar but still not correct hats can be found at Judith M Supplies and a possible pattern exists at Eva Dress.
HatShapers.com has a flower hat shaper which does an admirable job of creating this hat, for those interested in shaping their own.