God Costume -- Dogma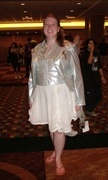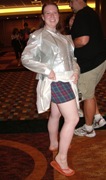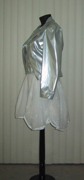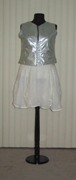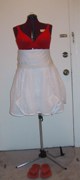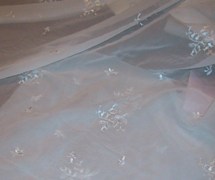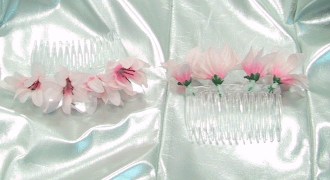 Description
I modified V8160 for the jacket. I created long darts to sweep the lower half away from the center. I cut the lapels down to size and drafted the collar. I spread the sleeve cap slightly so that it is gathered at the top. I used a faux leather from Denver Fabrics The actual color is "Pearl." It's been a pain to work with at times, but I think it has the right sheen. I drafted the undershirt myself. It's a simple four piece shirt with a jewel neckline which is open in front and laced halfway up. The bottom half is an underbust corset with four curved bones in each front panel and two in each back. It's not by any means accurate, but it was fast. I recommend Corsetmaking.com for boning and supplies.
The tutu is a 3 layer circle skirt on a waist band. I've run lines of gathering stitches down the length of it at several points and covered them with bias tape. The hem of each layer is also bound with bias tape. I'm using embroidered chiffon with a lily pattern which I found on sale at Thai Silks. The pattern is closer than anything else I've found.
For my hair I attached pink flowers from Hobby Lobby to plastic combs. The flowers started to peel away from the combs, but they stayed in my hair all night.