Jane Jetson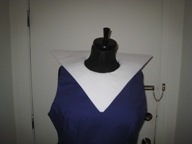 Description
I put this together for Halloween 2010. It's made from purple and lavendar broadcloth, with lavendar tights from WeLoveColors.com (I can't recommend these guys highly enough, great selection, great service) and a purple knee length crinoline from Sterling and Pearls.
I modified McCall's 5042 for the dress. I raised the neckline and expanded the skirt to make it a 4-panel full circle skirt. I used the same skirt pattern and added a waistband for the lavendar underskirt. Both skirts are heavily starched.
The collar is more broadcloth, stiffened with four or five layers of the heaviest fusible interfacing I could find. I also added two layers of posterboard, and when that wasn't enough I stuffed a piece of wire down each of the two long ends.