Kaylee's "Prairie Harpy" Dress -- Firefly


I started this costume because of a lucky fabric find. FabricTales.com has this rayon crepe for sale, which matches the color and pattern of this dress better than anything I've found. Compare: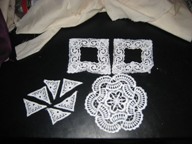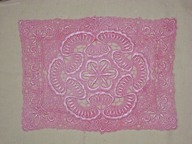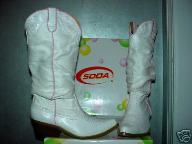 Description
My pattern is completely self-draped. It's a princess seamed bodice with a gathered skirt just under the bust. The sleeves are half-circles sewn into the p-seams of the bodice, and there's a 1 1/2 inch band of fabric along the sides of the neckline. The skirt length was basically determined by the amount of fabric I had left over. I also have a 3-yard long sash of the same material to go around the dress.
I have a bunch of lace appliques that I dyed with Rose Pink RIT which I hand sewed together into something roughly the right size for the center piece. The large center applique is from Raven's Lace Place on eBay. My necklace I found at Monkeyshines Beadery. It is a little larger than the original but otherwise very nice. The boots are Soda brand white slouch cowboy boots. They aren't perfect but will work unless/until I find better.