Kaylee's Teddy Bear Coveralls -- Firefly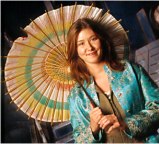 You can find more information on the original at Serenifly Costumes and The Costumer's Guide.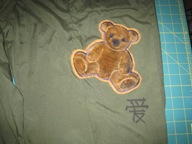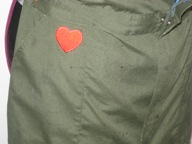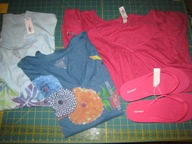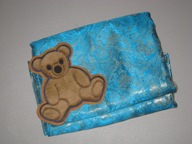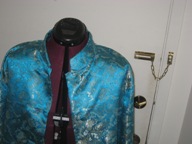 Description
I started this one to have something fast and comfortable for DragonCon 2009. It was never meant to be 100% accurate, but it was meant to be something that I could build upon.
I purchased a pair of coveralls from this site per the recommendation of The Costumer's Guide. I also bought, ages ago, blue brocade from fabric.com when I caught some on clearance and a teddy bear patch from 1ferretstreasures on eBay. You can find the patch at their permanent online store here.
I removed the sleeves from the coveralls and one of the pockets. Then I took my seam ripper and some sandpaper to some of the seams/edges to make them look worn down (the pockets, knees, and seams especially). I tried mud, shoe polish, tea, and finally black dye to create fake oil smears. The black dye worked best as the others mostly washed out. I also tacked up the legs since I plan to wear them rolled up the entire time.
I used a Sharpie to add the Chinese characters on the leg. This site is an excellent resource for it. I still need to get a heart patch for the other pocket.
For the jacket, I used view B of Butterick 4353. I think now that I should have made it a size smaller, but I was more worried about making it too small than too large. I did put a 3-inch hem in instead of the 1 1/4 inch hem the pattern called for. Then I went back and took in the sleeves and waist by a few inches. You can see the original jacket on the right and the altered jacket on the left. I opted for self-fabric covered buttons, which is what's on Kaylee's costume, I think.


I also ran by Old Navy and picked up some flowery shirts and thick-soled pink flip-flops to wear with the costume.
I still want to paint my own parasol, but I was able to pick one up at the Southeastern Browncoats booth at DragonCon.