Kyoshi Warrior -- Avatar: The Last Airbender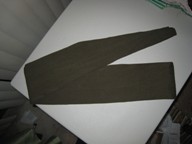 Description
For now, my plan is to make a generic Kyoshi Warrior. The only named warrior is Suki and they are only marked by different headbands and hair. The costume in the show is described as silk thread with a gold insignia. I'm assuming the armor is meant to be leather. I'm using silk dupioni and craft foam for my version.
The greens were actually difficult to find and to keep them from clashing. The green for the main robe was a lucky find on eBay. It's actually a turquoise yellow cross-weave that looks green. The underskirt is from Silk Baron. It's "Tuscan Olvie" which I overdyed with navy RIT.
The underskirt is a self drafted A-line with three six-inch deep pleats in the front. It's on a wide waistband and I added as much interfacing as I could to the hem so it would stand out. The sash is the same fabric in a long rectangle that narrows at the ends.
For the main dress I combined Butterick 4188, the sleeves from Simplicity 3620, and a self-drafted skirt. I appliqued the stripe and gold circle down the outside. The fabric is a cross-woven turquoise and yellow silk dupioni from eBay. The stripe is from the same material as the skirt and sash.