Padme's Blue Poncho -- Star Wars Episode II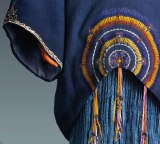 You can find information on the original costume at PadawansGuide.com.






Description
This is my first Star Wars costume. Mine's not nearly as beautiful as the screen version. The original is probably in some form of wool, but that's way too hot for me to be wearing around in August. Mine is silk noil, which is light enough, but still has some texture to it. It's the embroidery that really makes this outfit. Most of mine is satin stitched on a regular sewing machine, but the fleur-de-lis are fabric paint and the white is unseperated embroidery floss. The underdress is two broomstick skirts dyed, cut, and sewn together. If you look closely, you might notice the top half of the dress is a little more green than the bottom half. There are a lot of problems with this costume that I'd like to fix sometime, especially now that I've seen the close-ups from Dressing a Galaxy.