Talia Winters Suit -- Babylon 5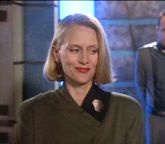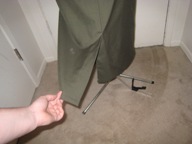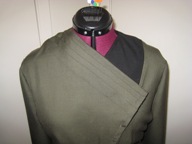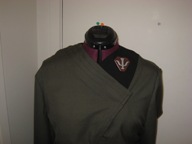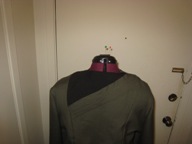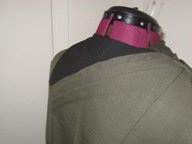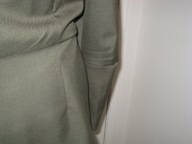 Description
As a long-time fan of B5, I've been on the lookout for something fun to make from the show. I don't know why this suit took so long to strike me, but once I was bitten I had to make it.
The skirt is a self-drafted straight skirt with a vent in the front. The fabric I used is an olive green wool gabardine from Trim Fabric I built it in a day and if I had time I'd consider narrowing it some more at the hem.
The jacket is based on Vogue 1072 and is made from the same olive gabardine. I know that the pattern isn't accurate but it gives the right silhouette. The actual costume has princess seams, kimono-style sleeves, and sleeve cuffs so narrow that there are long zippers in them. I adjusted the collar and had to create princess seams in the back to accomodate the black insert.
You can see in this image that the insides of my costumes look much worse than the outsides.

The Psi Corps Badge
I bought a replica psi-corps badge off eBay. It's enamel with two military pinbacks to hold it on. It has no marks on the back of it. You'll notice the psi is different on the replica. I had to repaint the silver on my replica because it rubbed off rather quickly with every touch.
At Dragon*Con I bought a resin kit from Arsenal Models which is much closer to the original. The same kit is available online at Frontier Models. I had to sand it down and paint it, but I'm much happier with it.
My third attempt was to snag a fan club Psi Corps pin off eBay. AVA-SURPLUS-GARAGE-ETC has a ton of them listed. This one is 1/4 inch smaller both vertically and horizontally, but I think it looks much sturdier than the others. On the back, it's stamped with the fan club logo. It's still not a 100% accurate replica.
The image on the far left is a screencap of the original. Then there's the fan club version, the resin model kit, and the unmarked official replica.