Effie Trinket Costume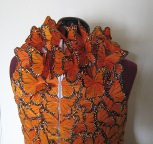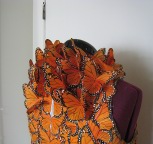 Description
I put this dress together for Dragon*Con 2013. The base dress is almost all stash-busted from my fabric closet. The bodice is made from some white coutil I had leftover from previous projects. The bottom is some kind of stiffened petticoat fabric I had lying around. I lined it in orange cotton and interlined it with some eggplant purple silk organza I had. My thought was that I wanted to provide the most secure foundation for the butterflies that I could. But the butterflies dried into such a stiff dress that I'm not sure how much of this mattered.

Patterning the skirt was actually rather tricky. I had to approach it as though it were a straight skirt, with darts in the front and back, to keep it from sticking out too far from my legs. The curve of the sides is done entirely with the side seams. They flare starting at the waist, but reach their widest at my hips.
I bought almost all of my butterflies from floraltrims.com. Their butterflies are actually pretty close to the original dress and their shipping and customer service were excellent. You can also find them on eBay if you prefer. For the base dress I used 25 dozen 5-inch butterflies. I cut the wings off and discarded the bodies. I would have used more except that I had a ton of 3-inch butterflies to fill in the gaps between. You can still see some gaps in the back, though. I also bought a dozen 1-inch butterflies for the little ones on her arms and used a couple of 3-inch butterflies in the hair, hat, and above her eye.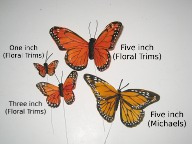 It's important to note that these butterflies are not recommended for outdoor use and long wear may cause some of the dyes to transfer to your skin. Especially around the armpits and neck. If you have any dye sensativities you may want to coat them with a clear coat of some kind or look for a different option.
The butterflies are glued onto the base dress with plain craft glue. They don't like to go around curves, but a little coaxing and plenty of glue will make them work for you. I went through a couple of bottles of glue on the overall dress. I did all of this with the dress on the form, padded underneath so that it all dried into a shape close to my own. I also stuffed some padding under the skirt curves so that they dried in the shape I wanted. When finished, this dress can stand all by itself. It is not going to be able to stretch or form itself to your curves unless it starts that way.

The wig is the Effie Hunger Lady Hostess Wig by Lacey. I bought it at Max Wigs and restyled it. This wig was thinner than I'd like, but it was the right price for me. I never really know what I'm doing with wigs. This one I combed backwards and shook out to loosen the curls. Then I wrapped the top hairs over some foam rollers and hit them with steam from my iron and a good bit of hair spray so they'd stand up. With a lot of hair spray and shaking I got at least some of the height that I wanted. I think that I would use a different wig if I were to wear this costume again.

The fascinator base came from Lush Lapel on Etsy. I used their round Sinamay base. You'll have to add your own fastener to the back. I hotglued a hair comb to the back and was really surprised by how well it stayed in place. For the fascinator I used some orange butterflies I found at my local Michaels store. I don't like them as much as the Floral Trims butterflies, but I ran out of time and they were available. The butterflies are attached with a combination of wire and hot glue. To hide the silver wires I slid them through black coffee stirrers. These also added some stability to the butterflies with longer wires.
My makeup is a combination of Mehron Celebre in alabaster and my usual powder foundation. I wanted to be pale but not deathly white. On top of that I used one of Mehron's Paradise color cups in a bright yellow around the eyes. I used a combination of light pink lipstick and my usual concealer to get a very pale pink on my lips. Eyeliner and false eyelashes complete the look.
Effie actually appears to be wearing 3 different false eyelashes. On her right eye, I believe, is the deer & butterfly design from Paperself that she wore in the first movie. I bought mine at BeautyBay.com. On her left eye is a basic black falsie. Underneath her left eye appears to be the small peacock Paperself eyelash that Katniss wore in the first movie. I found a knock-off version on eBay for mine.
The little butterflies on my arms are held there with liquid latex. The outfit is completed with black mesh gloves, off white pantyhose, and black heels.