Lucilla's Final Dress
Promotional Pictures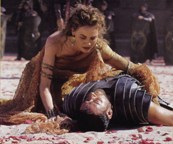 Screencaps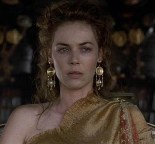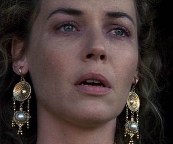 Description
One sleeve underdress of gold crinkled material, probably silk. Looks to be cut on the bias. Hem of the dress is not straight, but at a 45-degree angle to the ground, hanging high on one side and training several inches on the other. I don't see a seam to connect the sleeve, but it would be hidden under the wrap if there is one. The end of the sleeve is turned back a few inches.
It's topped with a corset of crinkled and embroidered material. The corset closes with a busk in the front and it comes to a point there. It is cut straight across the back with no back center seam. Boning channels are on the front sides and the back sides. There is a piece of ribbon or different fabric on the corset just under her bust on the front panels to control the waist.
On the left shoulder a wrap is attached by a pin. The wrap is 60 inch wide sheer fabric heavily embroidered with flowers and vines and edged with a scalloped trim.