Eowyn's Green Gown -- The Lord of the Rings: The Two Towers


You can find information on the original costume at Alley Cat Scratch.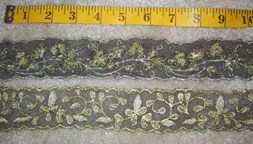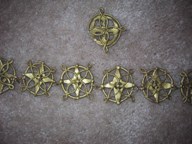 Description
I love this dress. I modified Simplicity 4940, heavily modifying the sleeves and drafting my own yoke. I left the princess seams open past the waist and widened the gap created by cutting off part of the side panels. I lengthened the front panel, but I think I may have lengthened it a bit much. The over dress is 10 yards of olive silk velvet from Sy Fabrics. The original is cotton velvet, but the Sy Fabrics silk velvet was almost the perfect color. The underskirt and sleeve lining are a crinkle poly/rayon blend I found at a local shop. The front three panels are bag lined with the skirt material. I didn't have enough to line everything. The lower sleeves are also bag lined and turned back about three inches. My yoke is a 4 piece pattern, also from this fabric, quilted and covered with trim from MJ Trims and a piece from Realm of Regalia. I bought the belt at TJ Maxx, though I intend to remake the actual belt.