Nox Costume -- Stargate SG-1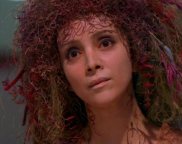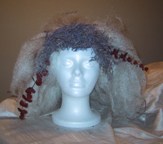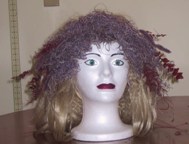 Description
figured this should be an easy Stargate costume to put together. The fabric is crinkle gauze dyed, cut, torn, and glued onto an underdress. My first dye attempt went horribly wrong and I discovered how to make hot pink. After a box of dye remover and some taupe, I've found a more subtle color which is about half Rose RIT and half Taupe. I'd probably go back and start with a peach/taupe solution if I ever redo this costume. I used McCall's 9456. It's a princess seamed dress with a tie in the back. I'm hoping this will give me some shape (I have a lot of curves) without ruining the aesthetic of the Nox.
I've upgraded the wig this year. It's still not perfect. On the left is the old wig. It's a Beetlejuice wig brushed down into a Nox shape. I added taupe RIT, brown paint, red eucalyptus, red raffia, and purple moss. On the right is the new wig. It's a Tina wig by Sepia which I found at Cosworx. I trimmed off the bangs and added moss, eucalyptus, raffia, and other assorted foliage.
For 2006 I decided that some shoes would be better than the flip-flops I originally wore. The actual Lya wears boots covered in the same material. I don't have any old boots to cover, so I covered some cheap Keds. I'm going for comfort, mostly. I think they turned out looking too much like bowling shoes.