Padme's Silver Packing Gown -- Star Wars: Attack of the Clones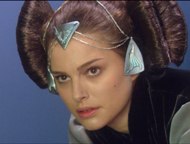 You can find information on the original costume at Padawan's Guide.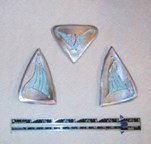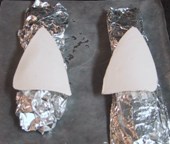 Description
This costume still has a long way to go. I've finished the skirts. The petticoat is synthetic taffeta from fabric.com with 1/2 inch double box-pleats leaving the front 6 inches unpleated. The main skirt is thai silk from eBay. The color is "silver gray" and it's a close color match in some lighting, which is why I've added the picture of the fabric before it became a skirt. The skirt is stacked knife pleats attached to a yoke. I'm not sure what my final ratio was. About the front 6 inches aren't stacked but are still knife pleated.
I made the triangles for this headdress out of Sclupey clay. I had to bake them over aluminum foil frames so they would curve somewhere near the correct angle. The designs are painted in with Q-Tips. I'm still not sure how these are going to attach to my head.