Pretty in Pink Costume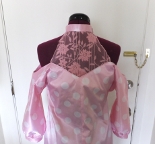 Description
I put this dress together for Dragon*Con 2012. The original costume was made from a floral-patterened brocade fabric that looked like polka dots on screen.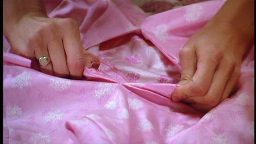 I had to choose between a screen accurate brocade or a fabric with the polka dots that most people seem to remember. I opted for a pink fabric with white polka dots from SyFabrics.com. It's a thin, synthetic fabric but I backed it with iron-on interfacing to make it a little heavier. The lace was a bargain buy from Fabric.com.
The dress is self-patterened. It's a combination of a big gunney sack based on my measurements and a lot of trial and error to get it fitting right. I chose not to put a zipper into the dress, which I regret. If I were to do it over again I'd add one into the side seam to help get the dress over my hips. The only fastening is a bit of velcro at the neck.