Steampunk Inventor Costume

Description
In 2011 I lost quite a bit of weight and none of my costumes fit, anymore. I put this steampunk costume together just to have something fun to wear at Dragon*Con. It's completely my own design and pieced together partially from things I made and partially from things I bought and modified. The idea was that the character would be an upper class lady who tinkered with science, invention, and alchemy.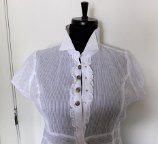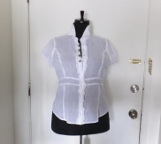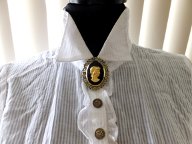 The shirt was a bargain buy. It's a sheer, striped button. I added plastic, brass-colored buttons to the top half of it and ironed the collar so that it stands up. A gold and black cameo was a great addition.


The skirts are made from Folkwear's Edwardian Walking Skirt pattern. Underneath, I have a muslin petticoat with a bit of black and white plaid ruffle. On top of that is a dark blue denim skirt.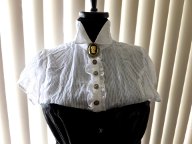 On top of all of that is a black corset. I went the cheap route and bought mine from Corset Story. As a costume corset it worked fine for the night, but it did start to dig into my hips painfully after a few hours. If I were to do this over again I'd probably spend the money for a better corset.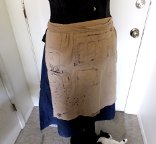 On top of all of this I made a canvas apron to wear. It's really just a big square of cotton canvas with various pockets added all over it. I washed it a few times and then splattered black paint on it to try and age it. I filled the pockets with vials, gears, and tools for the night.


Every steampunk costume needs goggles, right? Mine were the absolute cheapest pair I could find on Etsy. They're dirty and the glass in one lense is broken. The strap was completely falling apart, so I removed it and added my own. I added a bit of a gold leaf swirl around the sides. I chose to wear my goggles around my neck instead of on my head.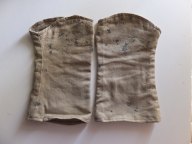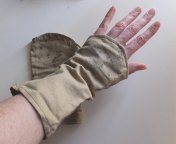 I made some little canvas gauntlets to protect my hands.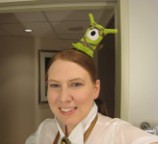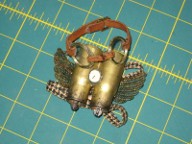 My fascinator for the evening was my Steampunk brain slug. These little brain slugs from Futurama were all over the convention floor for a couple of years, so I decided that mine would join in the cosplay fun. He's wearing a jetpack made from nerf gun shells and jewelry parts. His goggles are jump rings and a watch band. I hope he had as much fun as I did.