God from the movie Dogma
This costume was designed by Abigail Murray.
Promotional Pictures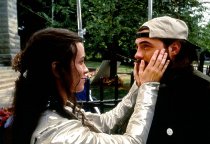 Screencaps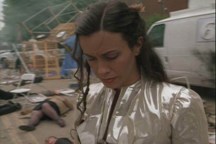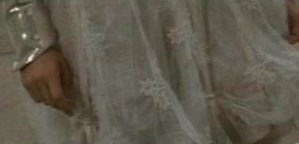 Behind the Scenes






Description
From the official movie site: "And on the seventh day, she rested. See the flip-flops - the cheap, $1.99 ones Alanis is wearing? That was Costumer Abigail's idea: a forty thousand dollar jacket, with $1.99 flip-flops. That's a God that I can relate to."
The tutu hangs to the knees with some straps reaching vertically to the waist, pulling up the hem sort of like a Venetian shade. It is embroidered with bunches of pointed flowers. Not sure about the fabric for anything. Possibly embroidered tulle or silk organza for the skirt and maybe silver (p)leather for the shirt and jacket. Whatever it is, it's very thin, as you can see by the width of the collar. The undershirt is sleeveless with lacing running halfway up the front. It has four bones on each side of the front. The jacket is full of seams. It has a collar halfway around her neck and wide lapels with a little shaping at the top. The bottom front sweeps back to reveal the undershirt. It looks to have vertical darts in the front which have been off set to match the angle of the sweeping front, or something like that. There are set in gathered sleeves and a curved seam along the shoulder, probably for the shoulder pads. The $2 flip-flops are orange and she wears plaid boxers under the skirt when she does a handstand.